 Comparison of 500kg Twins Dumper
Last page I introduced something about 300kg mini dumper and received many kindly feedback, If the 300kg model is the entry choice in mini dumper series, then, the 500kg item that I am introducing today, will be the high version of all the parts, it is always popular in mini dumper market rely on the suitable load weight, sturdy frame and powerful pump to meet most requirements and became the hot selling items for many years. In this page, you will find some difference of the top rated two model QTP500B and QTP500C ,  also I will recommend more for your purchasing.
QTP500B which is mounted 196cc, 6.5HP petrol powered engine, with low emissions and vibrations. Recoil/Electric starter and 3F+1R separated structure gear box is standard configuration. Control is simple, left side handle with safety brake for blocking the machine immediately and the steering lever under part is for turning left, right side: on top handle with on/off switch, accelerator handle and steering lever for turning right. Left side lever for steering on the left. There's thick protection plate of transmission against stones or any other object on the ground. Reinforced rubber could be well done for all terrain fields and 180mm track width perform extra grip perfectly. Extendable hopper achieve more functions while using, manual tipping by dedicated lever on its side.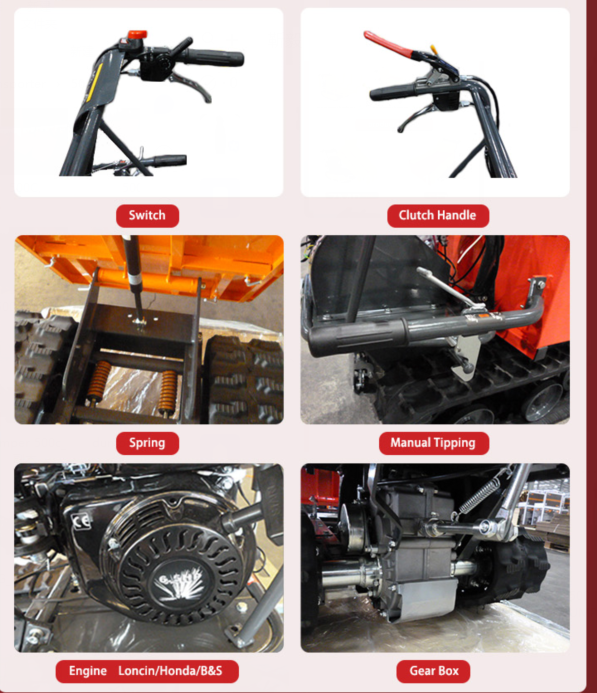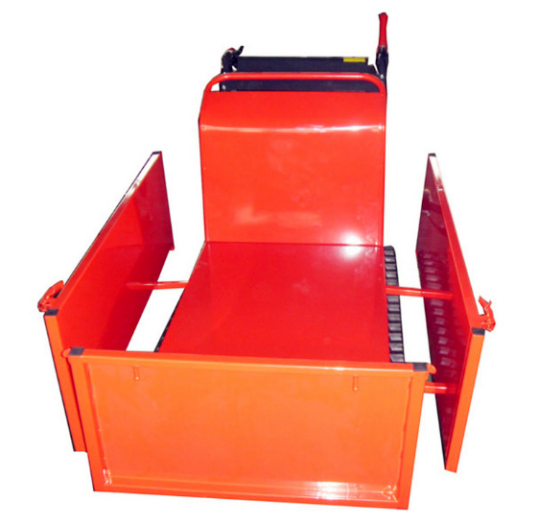 QTP500C mounted 196cc, 6.5HP/ 270cc, 9.0HP engine, Recoil/Electric starter and 3F+1R separated structure gear box, easy to use and operate. With same controls levers as QTP500B.   Oversize hydraulic pump and handy pump activation lever make dumper tipping to maximum angle: 90°, dump lever under the right handle with specific operation mark. Closed hopper with narrow top facilitate load loose material. Rear side of the "crawler" track with a sharp angle which allows to run easily on steps and any other obstacle. Low chassis keeps balance perfectly,  it can carry up 500kg even on slopes and inclines of up to 20 degrees.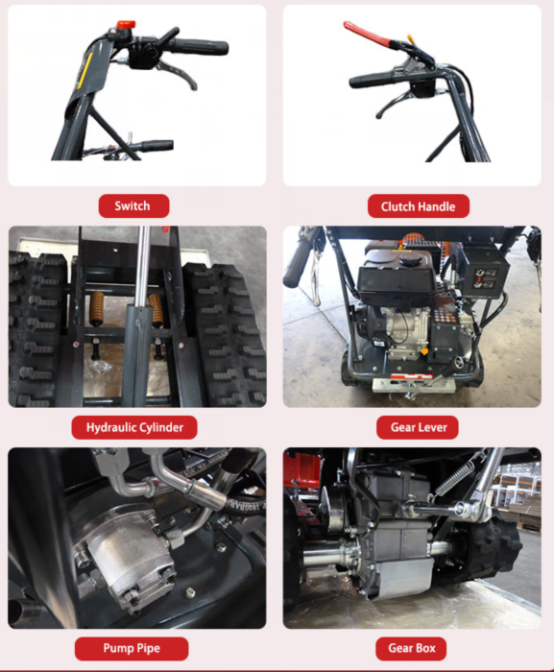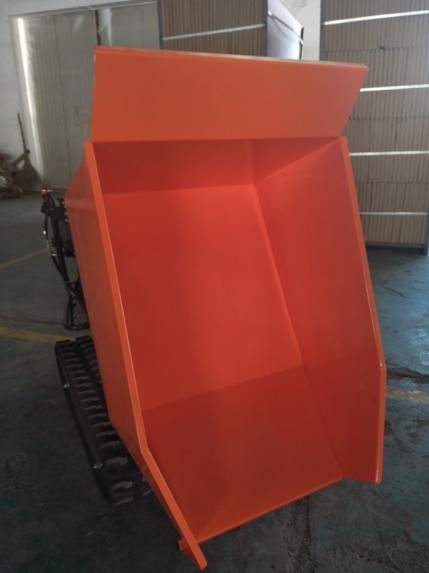 Both of them play a well role in garden/farm/construction/renovation, etc, with more advantages as below:
-the all-rounder for the transport of bulk material over difficult terrain
-goeseasilythrough tight ways and doors due to narrow construction
-solid steel design
-gear drive – maintenance-free
-wheel guide – rubber chain
For some guys who are hesitate to buy, here I also supply some advises for different user with different goal, QTP500B is more suitable for less or lighter material but with various shapes, such as branches, plants, the adjustable hopper is very attractive. The highlight of QTP500C is convenient hydraulic tipping function, easy operation and free your hands, the best choice for someone who want to load heavy and fine-grained things, like sandy soil, stone, brick, etc.
All of the mini dumper in Trade Peak with reliable after sale service up to 1 year, any problems can be solved quickly, hope this page is useful to choose ideal machine and also feel confidence to buy from us. We committed to produce reliable machine and provide professional advice.