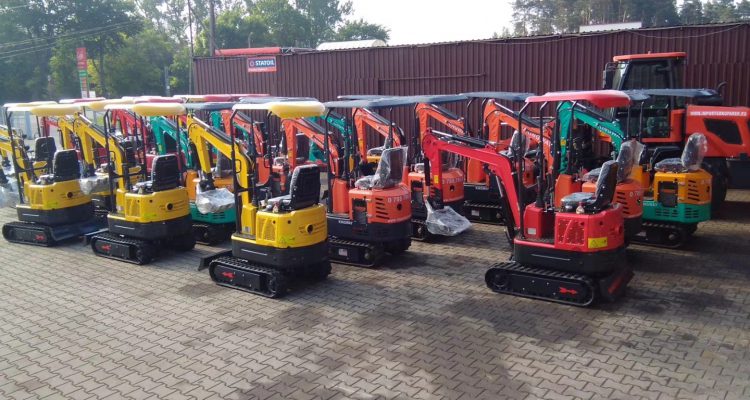 Why we need the mini excavator?
Will you feel really excited when you hear that someone had a excavator? I believe the digger is the dream for everyone, so am I. Not only can you start your work anytime, anywhere, but also give you more sense of achievement, even extra income. Now in Trade Peak, let's achieve your dream by Mini Excavator collection!
What is mini excavator?
Mini excavator wins in it's compact body and multi-functional designs. Our smallest model QTP08 with 800kg operating weight, mount KOOP single cylinder diesel engine to meet Europe V standard. Bucket capacity is 0.025cbm, max dig depth is 1320mm, max dig radius is 2400mm, with swing boom and extendable track.  Each machine with a free standard bucket, narrow bucket and leveling bucket are optional. With a large space of drive seat, kindly to more drivers.
As you can see that, even we called it mini excavator, still have all the features that excavator should have. Different with the full-sized digger, it better to work for small jobs such as house renovation and garden works, easy to operate and maintain. All the operating lever in front of the seat and pedal on the both side . Engine is under the seat, which is convenient to be checked .Canopy is to protect sun and rain to give drivers the better experience.  Some clients also buy to work with the mini dumper together, yes we recommend you this way to achieve more function, our mini digger do a great job with other light machines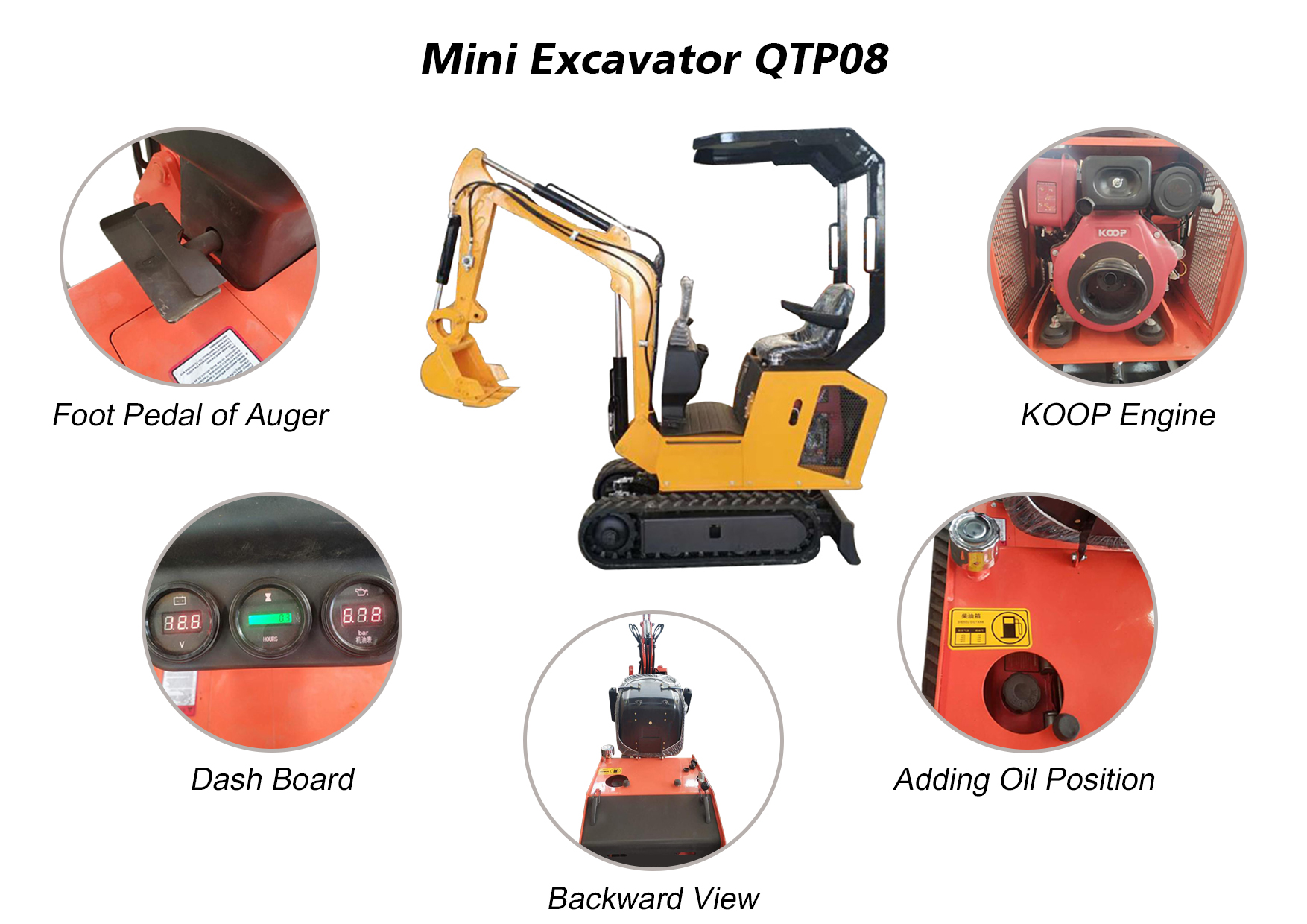 Advantages of mini excavator?
As we all know that, now mini excavator is more and more popular, of course it with much more advantages than the classic machine, also why we recommended:
Mini digger is more cheaper than a full-sized excavator, not only the machine value but also other additional cost, for example, the operator of mini digger no need the commercial driver's license, unlike the full-sized excavator, which means it extended the range of your buyers or workers. And the mini excavator no need to spend extra cost when transporting in highway, you can use your truck to carry it,  very convenient to move.
They're easy to use. Mini digger with a simple structure so you can get the point immediately, try to practice a several times and you will familiar with it.
Thanks to it's compact design, it can transporting in narrow place,that's very important for a house building or small landscaping projects, drive it to moving in your garden is no problem.
Small machines produce less noise, the engine we mount is Chinese diesel brand although a little louder than the Japanese brands, it is worthy to it's value.
They can be less damaging, with lighter equipment, you can avoid grinding or scraping the surface they operate on. The rubber tracks also help to reduce the risk of slips. Even there is some problems, it's convenient to be figure out and repaired, no need to spend a lot of repairing cost.
The last one is that, mini excavator with the similar functions to full-sized excavator, itstill have the ability to swing 360 degrees, wherever the loader is, it can find and load correctly.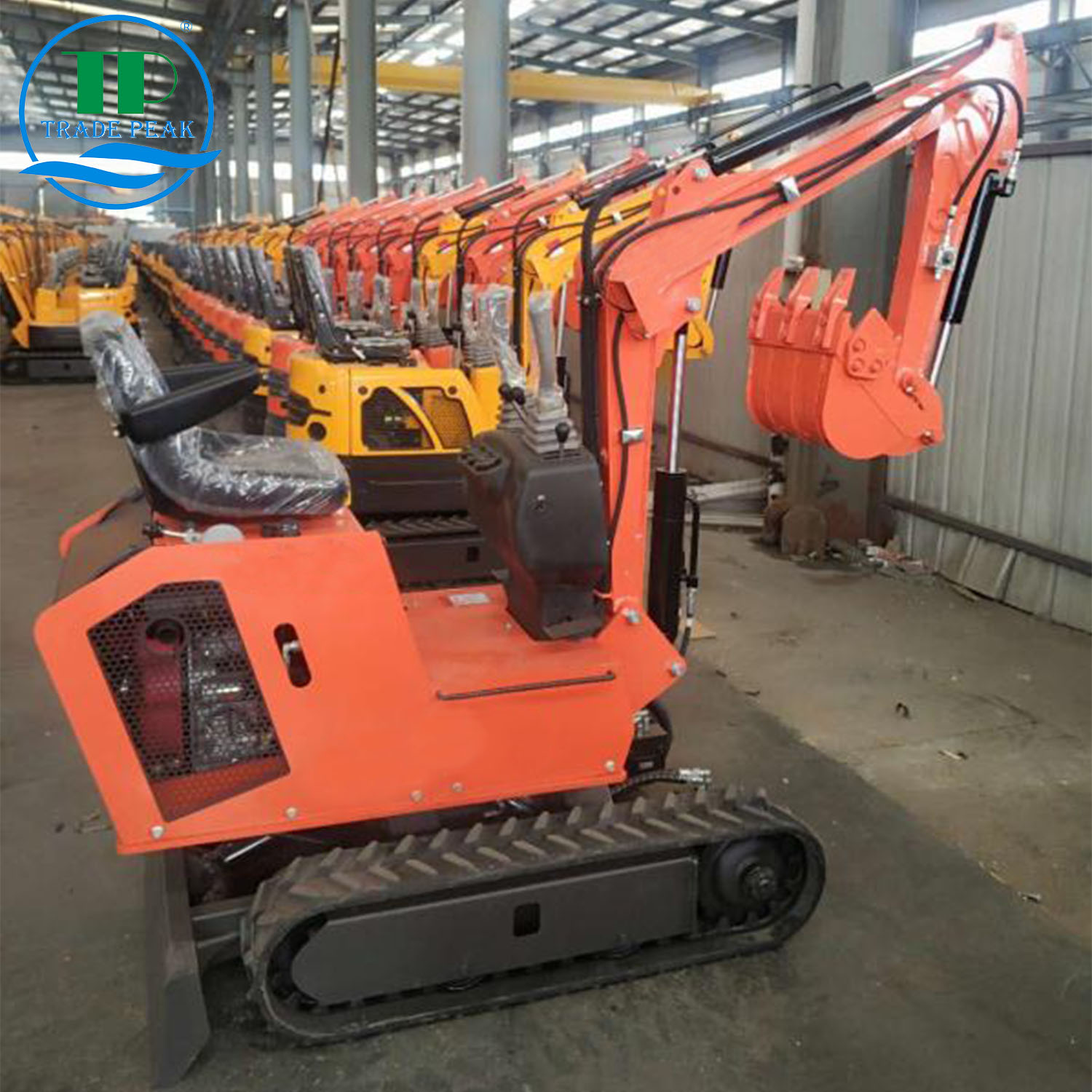 Accessories of mini excavator?
What's more, it can be used with many kinds of attachments, to meet different condition.
–Breaker: If there is some hard stone or mineral, it can solve it quickly.
–Raker :  You can use it to loose the soil before you plant.
–Auger drill: You use it for doing poles. When you plant something, you can use it to dig holes instead of labor.
–Ripper: It can help you to split the hard soil.
–Log gripper:  Can make the timber carry quickly.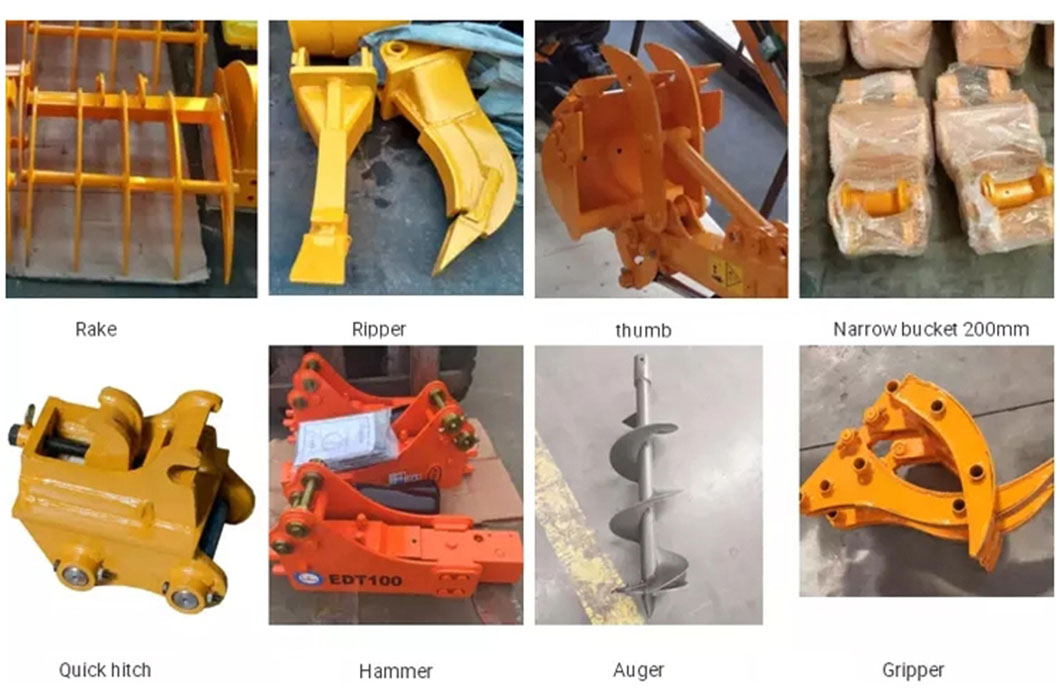 So that why more and more people choose the mini excavator now, no matter you are dealer or you want to buy for construction projects or rent, this compact machine is your best choice. Now lead time for mini digger collection is stable in Trade Peak, don't hesitate to take it home!