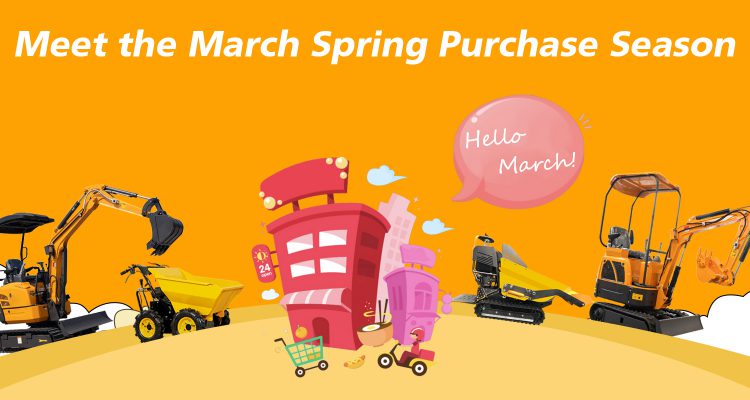 Welcome to the March Purchase Season
Today is the first day of March and we meet one of the most important purchase seasons. For all buyers in construction equipment fields, a spring purchase schedule is important during the whole year of selling. It includes the price locking, delivery, package, some selling trends, etc. So we would like to share some related things about purchasing on this page to help you well.
First of all, in order to make sure your orders can be scheduled smoothly and caught peak season on time, you should better know the lead time of each item If you are planning to buy a mini dumper, the engine is Euro 5 in the EU market, it takes 35 days for us to finish order, the producing capacity 1500pcs per month, if you are in North-American market, the engine should be EPA certificate, it takes 60 days to be ready on the engine, so the delivery time will be roughly 90 days,  as we all know the engine is overbooking since last year, so kindly arrange your purchase plan accordingly.  For the power tools such as the concrete mixer and a log splitter, now the lead time is 65days at least. Since the motor is over-booked last year, the copper wire takes longer than before due to the raw material keeps increasing. The higher price on the hydraulic pump of the log splitter is the same as well.  We can't make low quality to match with some cheap price request, we have our own value on business. Quality control is our priority aim. Hope it could be great minds think alike.
Of course there are some model with fast lead time in this year. The lead time of electric series is 30days, QTP150E sample is available. For the mini excavators, it is 15 working days of sending, and raw materials are in stock for producing. Same to the new equipment we extended this year such as power trowel, roller compactor, lead time is fast and sample is available. Hope all this can help you arrange orders well , and don't forget you still need time to do customs clearance and promote before selling. Time is also the cost.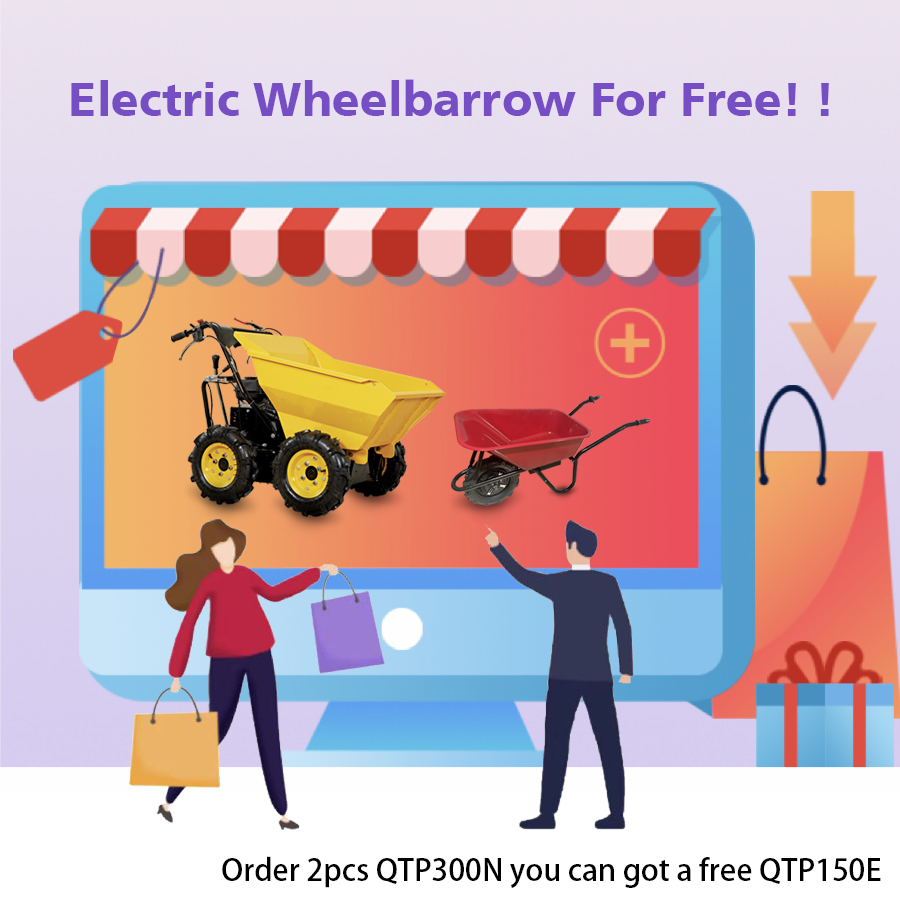 Someone maybe interested in the package of each items, although in the busy purchase season, we have strict packing process. For mini dumper, each machine in one wooden pallet, there is moisture proof film inside to fix machine and fiberboard wooden box outside with machine picture and number to facilitate distinguish. All around are adjustable locks to seal and fixed, you should better use a tool to open it when you received goods. Some model is assembled some is half assembly to facilitate transport and packing. For concrete mixer, plate compactor, electric wheelbarrow, packed double-layer corrugated carton, also with item number and picture on the outside package, you need to assembled by yourself, don't worry about it, there is paper manual with goods and we will also send you assembly video or online instruction if you have any problems. The electric hand trolley is packed by wooden box, usually 2pcs in one box so we also suggest you order 2pcs as sample to facilitate packing, because the package cost is same.
Then is one of the most important things we always focus on since last year, the sea shipping. In Feb, the sea freight for full container is dropped because of Chinese Spring Festival, from our experience , no matter it will rise again or lower in future, now is the best time to delivery, so if you have goods ready for shipment, that's great. If not, don't hesitate now, we have own shipping company to protect your goods and value on sea travel and will keep update the latest information about shipping to help you well. When struggling with the shipping, welcome to ask us for solution, we would like to help you all the time!
As we have already provided coupons for all the current partners at the beginning of 2022, and now, there will be more attractive activities. For more details, we already shared on our website and social media, welcome to follow us to find more!  Hope all of you got your ideal machines in this wonderful March!