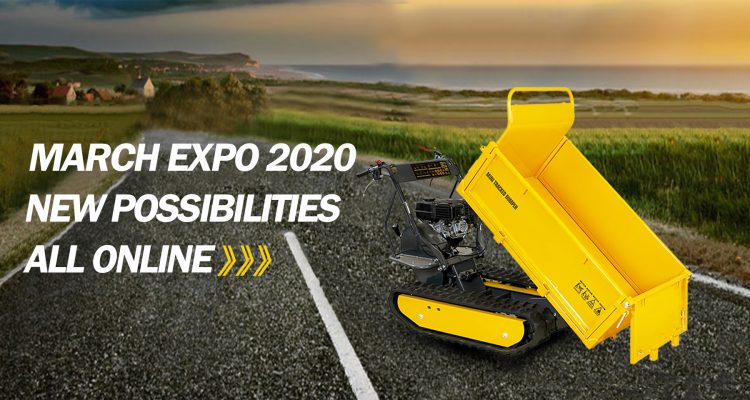 New Possibility — Find the best machine for your garden
Do you still remember the twenty-four solar terms in China ? Before , i introduced Start of Spring. But today , 5th, March is the Waking of Insects, we call it JINGZHE. It means all things wake up and reset. So we choose this special day as Super March, the sales promotion of tracked mini dumper .
Trade Peak 's long experience in the design and manufacture of tracked mini dumper, the undercarriages together with robust construction make these machines reliable , and with a permance and durability for beyond what might be expected from their compact dimensions. 
The whole series of tracked mini dumper 300 kg, 500 kg, manual, hydraulic . Both of them is with a top speed of 6km/h, 3 forwarder and 1 reverse. There is closed and platform metal tray for you to choose , it's easy for you to exchange this two kind bucket on 300 kg. QTP300B, QTP300C tracked mini dumper is your dream machine in your garden. 
About hydraulic tracked mini dumper 500 kg, it is QTP500N and QTP500C. They are with petrol-powered, 0.25m3 capacity dumper, pump flow is 10.8l/min, also with the different accessories, such as wooden plate , high fence , foldable bucket , snow blade and at just under 1m wide offers easy access to narrow or restricted areas. QTP500N, QTP500C tracked mini dumper is ideal for construction and quick loading of materials . They can pass a single width gateway or door , while optional hydraulic track widening increase stability on cross-slopes.
If you have the challenge of moving materials around difficult sites, Trade Peak tracked mini dumper offer a fast and efficient solutions. And the most important thing is all in stock ! You won't wait for such a long prepare time , we can deliver to your home . Don't hesitate , and call for us 86-532-88983807, or email to us admin@tradepeak.cn, we are ready to ship it .