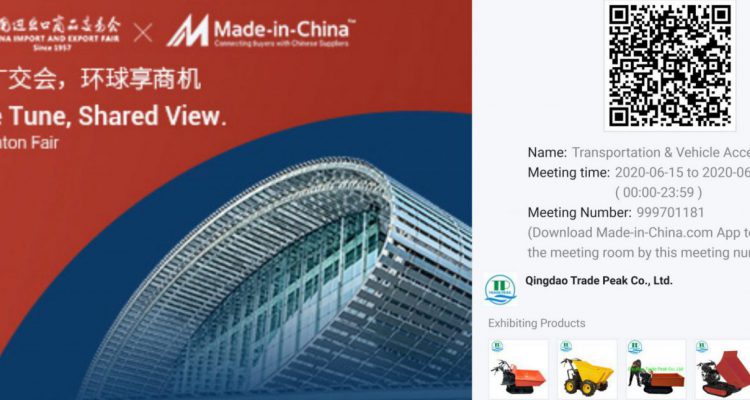 Trade Peak Online Exhibition
This year, many exhibitions have been delayed or canceled because of the impact of the Corona Virus, which lead us miss the chance to meet business partner. Whether for suppliers or buyers, it is undoubtedly a loss. Face to face is the most efficient way to know the minds on others, it can make negotiation more effective.
Things' going happen all the time. We take part in the creative online exhibition Canton Fair from June 15th – 25th, with the field of Transportation & Vehicle Accessories. It's with live broadcast to show you Chinese suppliers. Not only does it bring offline exhibitions to online, but also digital upgrades. It makes buyers and sellers conduct accurate supply and demand matching even without going abroad, so as to obtain more trading opportunities. We can also talk about the technical, innovation, etc, and say "Hello! Hi!" between a long distance. We had sent the invitation to you in advance with the number of Trade Peak Showroom, and invitation QR code will also be attached at the end of this article to make you join in.
It designed a poster with our characteristics, and carefully arranged the exhibition hall, in order to give you a better visual experience. Due to the form of live broadcast, we will independently arrange the display content every day, will preview the content of the next day at the end of the daily live broadcast. There is going to operate the samples through live to let you know more about them, product is mini dumper, plate compactor, electric hand trolley, ATV. At the same time, our receptionist will answer questions online to make clients feel really vivid experience.
During this exhibition, we also show our factory, production line, still the machine checking, packaging and shipping process, etc. I believe this part can help you have a direct and in-depth understanding about us. You know who we are, where we located and what we made. When the customer wants to consult in detail, there is a separated meeting room window, similar to private chat on social software to protect clients' requirements and other information, our sales representatives will talk with you, and engineer team also stay with us. If you eager to get some key points of machines, we would like to help and support you. After this online view, we will recap all our video information by email to confirm all the details was saved.
Anyway, this is the first time for all of us to operate this online exhibition, especially for the construction machinery. We are open-minded and give a warm hug on this big challenge. It means more possibilities on international trade development. We are ready to meet you online soon.
Welcome to our booth on June 15th, we are looking forward to meeting you one day just like usual Fair.