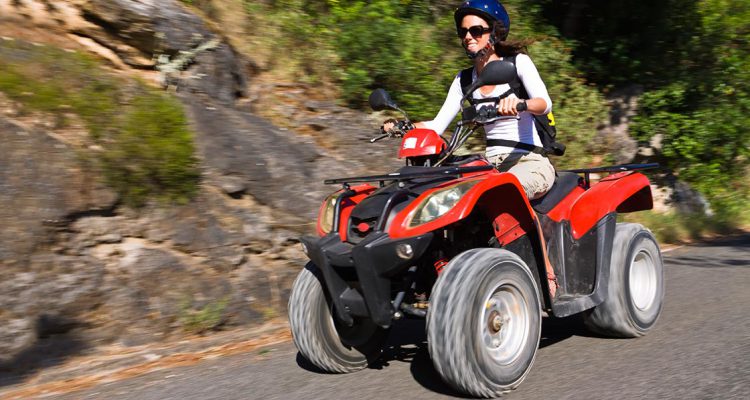 In our page before, we have listed something about importing ATV. I believe most of you are not strange with process, today I would like to share what you'd better know before you are ready buying a quad.
The best news for potential ATV buyers is that there are more choices than ever before, which means you can choose the perfect machine for your riding style and intended using. However, the wide selection does make whittling down your options more difficult.
Buying an ATV is a big investment and shouldn't be taken lightly. Since today's four-wheeler generally have good long-term durability, they will last several years.
Your ultimate goal should be to buy a machine that not only fits you just right and is easy to ride, but also has plenty of functions for your needs, a comfortable suspension system, the appropriate 'thrill factor' and all the features you'll need for getting any chores done.
First, you have to know the safety using age of ATV. Our vehicle has two types, Youth model and Adult model. Youth ATV's is basically smaller, lighter and less-expensive versions. Nearly all of them are designed for play and recreational trail riding with the family, engine power is 110 and 125cc. The age will be up to 16 years old. If your children is under this average, please take care of them, never let them alone. Adult type differs from youth models as far as size and price, require shifting, for those riders who prefer to keep their speed at a casual pace, engine size range from 150cc to 250cc, as well as the good usage condition for your farm. The high configuration is with alloy rim, high-performance gasbag shock absorber, instrument, turning light, 5 functions combination switch, handgrip and shield. This makes your riding experience more superior.
Then, i hope you would better get some basic information, the most important thing on the vehicle is engine and gear. Our cart mount 1-Cylinder,4-Stroke, air-cooled engine, with professional certificate, gear is CVT. Air-cooled means it having external cooling fins built right on to the cylinder to keep engines from overheating. The engines are usually positioned in the ATV so that as much air as possible flows over the cooling fins while the quad is in motion. A cooler-running engine is better in several ways. One is that power delivery stays consistent and strong; another is that the overall life of the engine is increased, as well as the time span between overhauls. Overheated engines strain parts and decrease the effectiveness of the engine lubricants. At the same time, a hot ATV engine can be quite a nuisance for the rider, especially when your quad radiates heat right onto your legs.
In terms of structure, our vehicle with chain-drive systems, which has two advantages over shaft-drives—lighter and less expensive to make. You can also exchange overall gear ratios quite easily and soft by changing either the front or rear sprocket.
Anyway, for now, i am fully confident of that you know much more about ATV before your purchase plan, don't be afraid to take time for studying these above, it will help you to make the wisdom choice during struggling with a variety of prices but still the same appearance. At Trade Peak, your satisfaction is our priority, please feel free to drop us anything else you want.