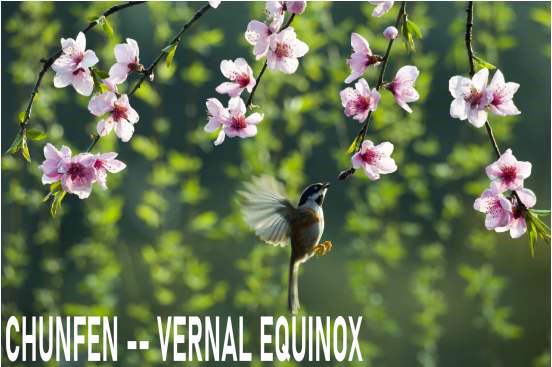 Is Your Business Ready for the Virus?
The vernal equinox is coming today. We call it"CHUNFEN". It is as the fourth term of the year usually starts on March. On this day, the sun directly blazes down the equator, so the day and night is approximately equal in length with 12 hours each. After this day, the sun continues to move to the north hemisphere and the temperature keeps rising.
As we all know, COVID-19 is spreading so fast and much in the whole world on this spring. The infection people increased rapidly, especially in Italy, Spain, Germany etc. We also get some local news from our European customers. All their business has been slow down. Most of them is lack of stock, some of them had to close the stores, workers took off work, children also was forced to stay at home. Everyone is over worried about the virus. They are bulk buying items like toilet paper and hand sanitizer. Although government control the epidemic strong, there is still more pressure than before. Under this conditions, could we calm down and think about what we should do to protect our business? And how we make customer have better purchasing experience?
First, check your stock items. You need to know how many and what kind of machines you have. Then test them carefully and do the package well. Because people spend much more time at home than usual, they need to do something in their garden. Spring is coming, they can repair their house and do some DIY workings.
Second, Call for your customer and know their demands better. Why i say "call"? You can't see each other, people will doubt a lot. When you give them a phone call, it makes warm and kind, you are easy to know what they need, something like electric wheelbarrow which used for their garden, mini dumpers are used as transportation, mini excavator made for their house working or plate compactor to make their landscape look beautiful.
Third, Make clear and warm poster of your product. During this period, all of us fear about virus, we need some colorful things to make life peaceful. Also people will know your machine clearly and easily. It is accessory and good for both of you.
Fourth, Pay more attention to the package. I think you have already known the reason i mentioned. We need to ensure all parts of machine is safety from inside to outside. At the same time, prepare some sanitizers and HDPE gloves. It can help you much when you deliver.
Fifth, Deliver fast and clean. We will be heavier busy within these days. However, the people who had to stay at home is more pressure then you. When you got request of mini dumper, mini excavator, power barrow or anything from your clients, arrange the transportation as soon as you can. Try to treat them more kindly.
Sixth, Prepare wearing parts in advance. Normally, no matter 1 piece, or 100 pieces, there is no extra spare parts to be prepared for free. We supply all of this when customers ask for it. But now, it's so inconvenience for them if there is something need to be fixed. When you ship, put some cables, such as direction, brake, clutch cables, or safety handle. They can solve little problem quickly.
Seventh, Try your best to do the after-service. As some experts saying, we don't know when the epidemic will stop. So take clearly photos of assembled parts, make completely operating video of every function of mini dumper, mini excavator, power barrow etc. Sending the simple instruction paper to your clients to know how to add hydraulic oil, which number of oil, where to assemble the gas shocks etc. Let them know no matter what problem is, they can call you or email you directly and get the answer in a hurry.
At last, i want to tell all the dealers and customers. If spring comes, can summer be far behind?All things will recover soon. We always stand by, no matter it is purchase plan or other part of your request, don't hesitate to contact us and we would like to support. We have already prepared mini dumper, mini excavator, power barrow, plate compactor and all kinds of construction machinery in our warehouse, we can ship it immediately when you need them, there is also masks, gloves, all are ready to ship. You are not alone, we face it together to win and make our business more successful.